eSkootr Championship (eSC) prepared for months for the arrival of the 100% electric scooter series. Unique in the racing sector, it expounded its views on sustainability, micromobility, racing and safety, all together within a concept that managed to quickly catch on with motorsports fans.
The category was founded in 2019 by Hrag Sarkissian and Khalil Beschir with the intention of promoting sustainability, but beyond that, it sought to showcase a new way of looking at scooters and micromobility, using sport as a platform for momentum and visibility.
The championship concept has the footprint of Alex Würz, former Formula 1 driver, co-founder and safety ambassador of eSC, while Lucas di Grassi also serves as co-founder, as well as sustainability ambassador for the series.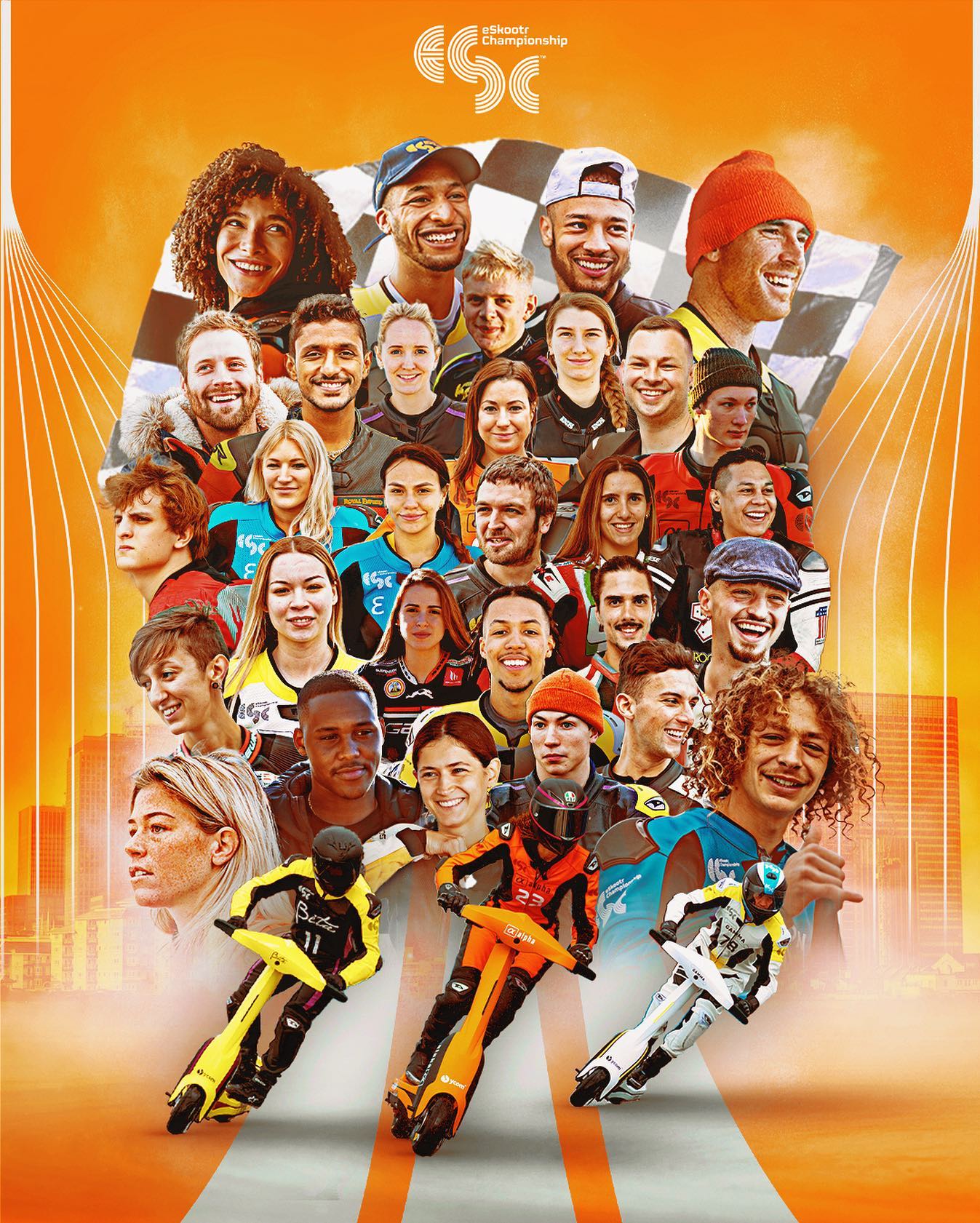 Related content: What to Expect from eSkootr Championship Season 2
Entertaining Format
Ten teams made up the 2022 season of the category, with each team having three drivers at its disposal split between men and women for each event. The race format was based on a knockout series with the top 4 advancing to the quarterfinals. After that, the top three secured a ticket to the semifinals.
Subsequently, the top three in the semifinals competed for glory in the finals, with a total of 11 drivers in the decisive stage of each weekend. There, they worked under the format of a drivers' championship and a teams' championship.
Driver
Aarón Guardado
Alexis Letellier
Ami Houde
Anish Shetty
Antoine Magalhaes
Antonin Bernard
Aymard Vernay
Billy Morgan
Chelsea Gowland
Dakota Schuetz
Daniel Brooks
Danny Skinner
Elise Christie
Jamiel Guerchadi
Javi Espinosa
Jordan Rand
Kilian Larhar
Lena Kemmer
Marc Luna
María Bellot Bernabé
María Paula Mapis
Matis Neyroud
Nancy van de Ven
Nicci Daly
Roberta Ponziani
Roomet Saalik
Sarah Cabrini
Sara Sanchez Tamayo
Tre Whyte
Wilfred Njuguna
The first race was held in London, the city selected to host the debut of the eSkootr Championship, reflecting a 600-meter course, which went in and out of Printworks London, seeing how the S1-X transited at more than 100 kilometers per hour.
Indeed, S1-X was the official name of the electric racing scooter, developed by YCOM, capable of reaching the aforementioned speed, equipped with a 1.33 kWh battery, flax fiber bodywork, weighing 40 kilograms in total and tilting capacity of up to 55°.
Matis Neyroud made history as the first winner of an eSkootr Championship race, Sara Cabrini also shone as the first woman to win a race in the series, while, finally, Aymard Vernay remained forever in the history books as the first champion.
Written by | Ronald Ortega